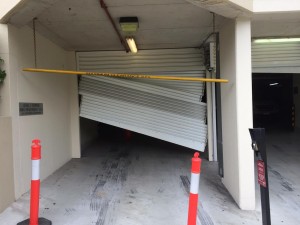 Have you got a problem  with your industrial or garage door not going all the way up, all the way down, or simply won't open at all? At Door Doctors, your up and down is our business. We offer a same day garage door repairs service to ensure your door is working again with a minimum of fuss.
Our experienced team will come directly to your office, factory or home – no matter if it's the smallest residential garage to the biggest industrial complex. We'll fix the problem so you're able to get on with your day quickly and safely.

Satisfaction Guaranteed
No breakdowns will be left nonoperational or unsecure. We guarantee your satisfaction, your door  will be back in normal working order as soon as possible.
Simply give us a call on 3299 2992, contact us by clicking here, or email us on [email protected]. We'll arrange for one of our dedicated breakdown crews to get out to you as quickly as we possibly can.
If it's not urgent you can place a request through our online quoting service by clicking the button below.
Door Doctors: Sorting out life's ups and downs.