Door Doctors Commercial Range – Industrial Door Sales

If you're in Brisbane and your factory, shed or workshop needs industrial or commercial doors and motors replaced, repaired, or installed for a new fitout, the Door Doctors are able to help you. We have 12 years of experience in working with the industrial sector and can customise the job to your personal needs – it sounds like a cliché but no job is too big or too small. The team at Door Doctors have extensive experience in jobs of all sizes – we specialise in roller doors and shutters but we've also worked a lot with the electrical aspect of doors (e.g. main entry car parks/garages/factories), car park doors, truck shutters, and so on. Industrial door sales are a huge part of our business and we love working with them!
If you're after a few examples of our workmanship – we're proud to have been responsible for industrial door installation at Sydney Olympic Park, the v8 racetrack in Townsville (Townsville 400), and were also pleased to be a part of the Amberley RAAF Base Upgrade.
We've got strong established ties to top quality manufacturers of doors and motors – being a preferred and accredited supplier of both Grifco and Merlin motors.
We also offer an after hours emergency service so if you're not able to open up or need a security close down we'll be able to repair or at least secure your door no matter what the time. There's nothing worse than sticking around hours after knock-off time trying to figure out how to secure a broken door.
Here are some of the jobs we've done: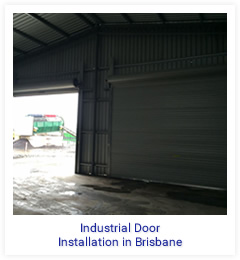 If your factory needs help with industrial door sales, repair, or a whole refit – our experienced and friendly team are standing by and happy to help. Simply give us a
call on 3299 2992
or
click here
and we'll get in touch.