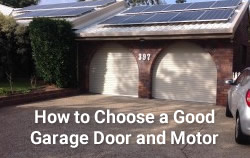 If you're looking to buy a new garage door you'll see there are a multitude of options – it can seem overly complicated for something that just goes up and down! With that in mind here are 8 tips from the Door Doctors that will help you learn how to choose a garage door and ensure it's the right one for your personal circumstances.
How to Choose a Garage Door.
1. Measuring
Firstly, you'll need to measure up. Check the height, width, and thickness. As a general rule garage doors are a standard size but better safe than sorry! If you're going to DIY make sure you double check before going any further. As the old adage goes, measure twice, cut once. However, if you're going to get the door installed there's no need to worry about this part – the installer will do all the measuring for you.
2. Insulation
Whether you're in Hobart in winter or Birdsville in summer, it's important to consider insulation. Depending on the location of your garage door, this can have quite an effect on temperature. Consider the material your door will be made out of and how that will factor into the garage (especially if the door leads to any areas you use frequently). Ask the door manufacturer if you have any queries about this.
3. Installation
If you're keen on DIY, it's possible to install a garage door yourself. There are some great instructions on the Internet and in some cases it can be straightforward. If you do need a hand, however, please feel free to give Door Doctors a call – we'd be happy to help!
4. Noise
If you're starting work early/coming home late and don't want to disturb your family and/or neighbours it's a good idea to consider the amount of noise your garage door will make. We can
recommend the MT100EVO Tiltmaster (works for sectional or tilt garage doors) which uses a quiet and powerful DC (Direct Current) motor. Other options include the SilentDrive BBU or the MT3850EVO WhisperDrive (please note the WhisperDrive only works on sectional doors). Gone are the days of rackety, clanking doors waking up the neighbourhood and disturbing the peace…just make sure you choose a motor with a good warranty and consider using a door repair company for regular maintenance!
5. Safety Features
Garage Doors are quite heavy and the motors are powerful. It's important to consider the safety aspects of your investment. Some safety features to consider include:
Manual Release (what happens when the power's out? – a manual release will ensure you can still use the door with no power)
Automatic Safety Reverse (Premium motors will stop and reverse automatically if obstructed going down or stop if obstructed going up – protecting your car, whatever else is in the way, and your door/motor at the same time)
Automatic Force Sensing (Automatic force sensing means with each operation the motor will monitor and adjust the force required to open the door – saving energy and promoting safe operation)
Battery Backup (blackouts? No problem! Motors with battery backup will work perfectly no matter what's going on around your power grid)
Thermal Overload Protection (Choose a motor with this feature to ensure it doesn't overheat if something goes wrong)
6. Warranty
Garage doors are a serious investment and as they're generally used multiple times a day over long periods of time; as such it's a wise idea to protect your investment and purchase from a reputable supplier. Door Doctors use Merlin Garage Doors and Motors and are fully backed by a 7 year / 15,000 cycle onsite warranty. Be sure to ask what the warranty (both time and cycles (i.e. usage)) is before you sign on the dotted line!
7. Energy Consumption
With electricity bills as high as they currently are, it's important that you choose a motor with as low power consumption as possible, without compromising quality or usability. There are a number of options here – for example, Merlin's PowerAce has the latest security, multi frequency technology but still manages to use 75% less energy than previous models (less than 1 watt of power in standby mode!).
8. Maintenance
You'll save a LOT of money in the long run if you sign up for regular maintenance. As we saw in point 6) – getting a door and motor with a good warranty is integral when you're shopping around – and regular maintenance will generally double the life of the door/motor. Have a look into pre-planned and fixed price door maintenance services – this will help ensure you have a trouble-free experience with your new door.
We hope this helps! Any questions, please call Door Doctors on 3299 2992.
The Door Doctors
If you need a hand with buying and installing a new garage door or you want to know more about how to choose a garage door give us a call on 3299 2992 or click here to enquire online about how we can help you – from research, sales, servicing and repair – we can do it all. Door Doctors – sorting out life's ups and downs!
[email protected]
3299 2992